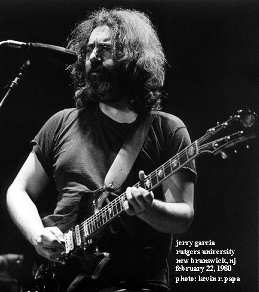 Got two wonderful cd's in the mail this week from the Jerry Garcia Store. After Midnight, recorded in 1980 and Jerry Garcia & Merl Saunders Band: Keystone Berkeley, September 1, 1974. Haven't listened to them both in full length, but I picked some favorite tunes. Already had some Merl and Jerry on DAT tape, but this cd set sounds amazing. Especially considering this stuff is now over 30 years old. And this set even comes with a cool Keystone Napkin !
Robert Hunter writes in the liner notes of the JGB's After Midnight that Jerry Garcia is probably the Top Dylan Interpreter. And I most certainly agree. Just listen to Going Going Gone with the haunting organ of Merl Saunders and I don't think anyone can disagree. For some reason Jerry's voice match the Dylan songs perfectly. After Midnight has a wonderfull Simple Twist Of Fate and Heaven's door.
Just realised it'll be ten years ago in august, Jerry died. Now that's sad :(.