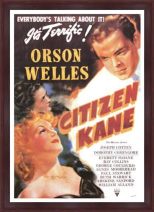 The American Film Institute has released their annual list of the Top 100 Movies.
1 CITIZEN KANE
2 THE GODFATHER
3 CASABLANCA
4 RAGING BULL
5 SINGIN' IN THE RAIN
6 GONE WITH THE WIND
7 LAWRENCE OF ARABIA
8 SCHINDLER'S LIST
9 VERTIGO
10 THE WIZARD OF OZ
Their site has a nice tour of the top 100 and some other nice info / trivia. Can't find much wrong with the list.
It's remarkable Raging Bull has now entered the Top 10. The Searchers (John Wayne) from 1956 charged the chart from 96 to 12 !