Lord I do not want to be hurt by a bear


No this site is not turning into animal planet. It's just coincidence I watched two animal related movies this week :). The Grizly Man is a documentary on Timoty Treadwell. For 13 years Treadwell lived amongst the Grizzly bears in Alaska during the summer. The movie is a collection of Treadwell's own footage he shot during the last few years of his life and interviews by the director of the movie Warner Herzog.
In the fall of 2003 Treadwell and his girlfriend were killed by a bear, which made the news all over the world at the time. Overall the documentary is well done, you see TT talking with the bears (he even gave them names) and the interviews with people he knew are nice and informative, though some are a bit too emotional for my taste. This documentary isnt perfect but it's very enjoyable nevertheless. I love the endearing moments, like chasing his pet fox who stole his cap or the one where he talks to Chocolate, one of his favorite bears.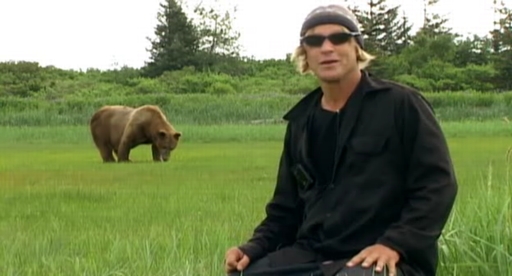 Continue reading The Grizzly Man