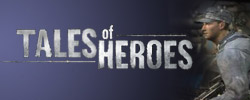 The guys from Tales of Heroes, a Company of Heroes RTS game podcast, have started a new gaming website at gamefire.com. The video quality of the Company of Heroes replays (accompanied by witty commentary) has been greatly enhanced, but you have to use the website's player now to view the video as opposed to downloading it off the website like it was before. The site's player is fine though and I haven't had any trouble with it, but it doesn't seem to work for some people.
The latest video that Bridger put up is one of the best I've ever seen. It's a very exciting match between 2 teams of 2 players called Down to the Wire.
One that was released a few weeks ago, was also an instant classic, check out Hans the Sniper.
All of this should keep you busy while waiting for the Opposing Fronts addon for Company of Heroes :).