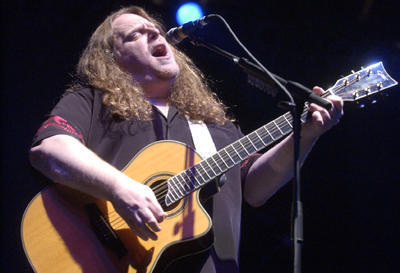 Great times for fans of guitarist / singer Warren Haynes ! Over at the bit torrent site of etree.org, there are now several shows up for grabs. A few different sources captured the New Years show Gov't Mule did. Am listening to that one right now, and it's spectacular. Very fat guitar sound and excellent bass. Have never listened much to this band, but I certainly will now. Also over at the etree site is the Xmas jam he organised on dec. 18th. This jam is a great opportunity to get to hear some lesser known acts and bands and WH's acoustic sets are always a pleasure to hear. I just ordered his Live At Bonnaroo CD. His version of U2's One is worth the price alone.
Also a lot of other jam bands and Dead (related) material at Etree.org. Make sure to check it out in case you're interested. And when you're new to all this stuff (flac torrent etc), read the tutorials and faqs on the site. They're very helpful.
UPDATE:Warren's Jam from 2-2-2005 can now be downloaded using bit torrent from bt.etree.org.