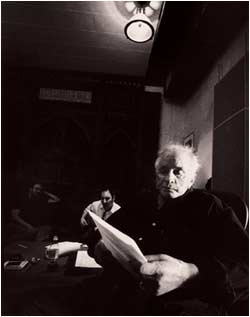 Yesterday I received a package from Amazon.com, it contained the Johnny Cash 5 cd set (+ wonderful booklet) Unearthed and a book on Cash called The Man Comes Around: The Spiritual Journey of Johnny Cash.
Have listened to 2 of the 5 discs and read the last few chapters of the book. Am definately planning on reading the whole thing though, really like the writing style of the few chapters I read so far. The cd's are wonderful ! I can't believe the 2 Neil Young song (Pocahontas and Heart of Gold) never made it onto any of the American Recordings discs. There is definately a contrast between the stuff he recorded before June, his wife died and stuff he did there after. Didn't know it was possible, but his voice sounds even darker.
You definately don't have to be a Country fan to enjoy this stuff. Just check out any of the 4 american recordings discs, I am sure you won't be able to put it down once you listen to them. After reading and listening to him last night I decided to put a nice photo of him, I had no room for here at home, in the office at work. He's now sitting right next Marlon Brando and Jerry Garcia behind my PC :).
There is a good article here on CNN that tells his story quite well. It's the obituary they posted after his death in '03.