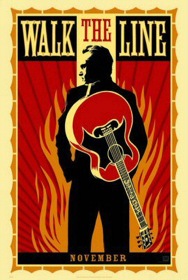 To be honest, I was a little reluctant to see this movie at first. I am big Cash fan, especially his American Recordings stuff, and also read some books about the man, so I already have an image of him inside my head. But decided to give it a go anyway, mostly due to my curiosity.
Well I am glad I did, because I liked the movie a lot. Basically it tells his life story from childhood up to the late sixties where he finally got off drugs, married June and rediscovered his christian faith.
Both Joaquim Phoenix and Reese Weatherspoon play excellent. Even though they arent exactly lookalikes of Cash and Carter they manage to portray a believable image of them. The music is nicely done as well. The story might be a bit superficial at times, as you mainly see Cash in trouble, especially focusing on his outbursts, but I guess they had a lot of ground to cover and picked up the most interesting bits. Cash's relationship with his father plays a big role as well.

All in all a very enjoyable movie, even for non-Cash fans I guess. It's not all dramatics, there are also a lot of very funny moments in the film.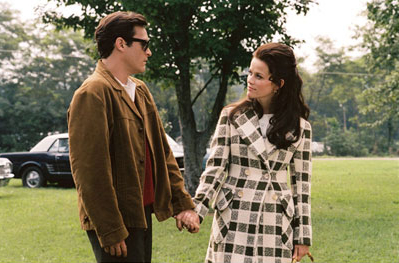 Johnny Cash Wikipedia Entry
Walk the line at IMDB
Walk the line official site
Trailer at Apple.com