A while back I finished the game, and I figured I'll type some thoughts here about it. First of all, I don't actually finish a lot of games, so it's a statement in itself that this one was fun enough to actually finish. The story was decent overall, and you sort of want to know what happens in the end. I like the links to the High Republic Era. Your main enemy is the Dagan Gara (at first 😉 ) who was a Jedi Knight in those days.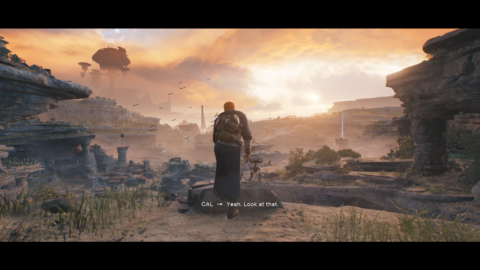 The graphics are gorgeous and it's just fun to run around and use your (customized) light saber to mow down enemies. Except for some of the outdoor areas, I didn't suffer too much from the performance issues. I turned down some details, which helped I think. Though some open world areas couldn't really be improved.
The puzzles were decent as well, except for a few where i had to consult the IGN online guide, mainly the one where you were on a timer to get the ball rolling. The overall difficulty was doable, I am not very good at these type of games I have to be honest, the middle difficulty was doable, but I don't have all the time in the world to play to about half way through I turned it down a notch so enemies just died a little quicker. Also some boss fight were just damn annoying, I didn't really want to spend an entire afternoon trying to kill one boss. Some people might get some enjoyment out of that, I am not one of them.