Railway Empire is a new railroad tycoon game, in the spirit of the old railroad tycoon by Sid Meier. Made by Gaming Minds, in Germany. I have put in quite a few hours in this game, because I streamed it the past few weeks on twitch. So if you check the videos on my channel, you can see (almost) the entire campaign.
The game is quite enjoyable, the graphics, especially the locomotives, are nice, and the presentation is polished. The track editing itself is pretty good, one of the best I have seen in a train game to be honest. One thing though, you can't cross tracks ! Which is very frustrating, especially at the start. Somewhere along the line you get used to it, and build around it (or above as the case may be), but it's still very annoying.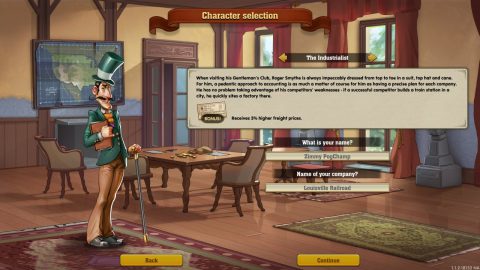 There are four play modes, you should probably start off with the campaign, then there are a bunch of scenarios, that are quite like the campaign chapters, but they're standalone and don't have any cut scenes.  Then there's freemode, which leaves you with the most flexibility as you can pick the era to play in and one of the five maps, that you get to know in the campaign. Last (and least ;)) there is a sandbox mode without money and competition. Might be interesting to test something out, but it doesn't sound very challenging to me.
The campaign is nice with a story to it, basically how the first Transcontinental Railroad was build. Some funny moments are to be had, with the competition being cartoon like characters that talk banter every now and then. The objectives in the campaign aren't always easy. I had to restart a few a few times to get a good understanding what needed to be done to complete a chapter. All in all the campaign is fun, but rather limited. Only 5 chapters in the US (5 maps in all that return in the other game modes) in the timespan of 1940 – 1910. No europe, asia and or japan or whatever. I assume some DLC or expansion packs will remedy this, but for a $50,- it's a little limited to say the least.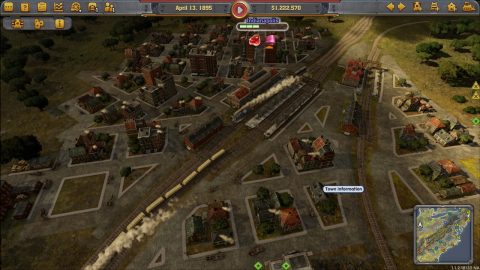 Another annoying aspect is that the AI cheats. It's literally on EASY mode. You can use this mode yourself as well, though I don't know why anyone would as it takes all the fun out of a train game imho. This means that it only needs one track and the trains never collide, they just run straight through each other. So no need to track changes, double tracks, signals, multi track stations. It's quite immersion breaking as well to look at. So you better don't ;).
All in all I have been having a good time with the game, and spend quite a few hours in it, and I'll definately will play it some more. I'll probably also would buy some more campaign like content, if it's somewhat reasonably priced. As of now it lacks content and a somewhat more sophisticated AI to warrent it's big $50,- price tag. Put it on your wishlist and buy it when it's on sale, that would be my recommendation.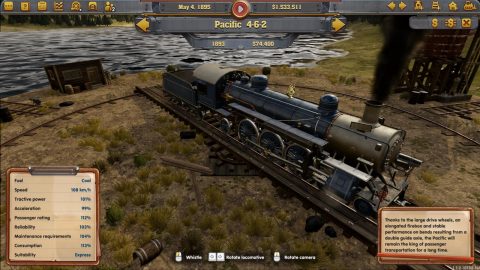 The game is available on both GOG and steam. GOG is DRM free and comes with a kickback of almost 8 Euro in Europe, depending on your location. You can of course also buy a steam key at Greenman Gaming ;).